Ducati Monster is one of the most iconic models from the Bolognese motorbikes factory. It is considered the ancestor of "naked" motorbikes, with the engine in plain sight. A mix of style, sport, and technology: through years, we chose the Ducati Monster to test our departments in the design, development, and digital production of customized aftermarket parts. That's how J-Monster was born. Since our early days, we show it at fairs and renew it with new parts regularly, using the latest technologies, with demonstration purpose.
J-MONSTER: MORE THAN A PROOF OF CONCEPT
We often cannot share what we do with everyone, which is an issue for us. We are bound with our customers with NDA because the products we work on may be released many years after our contribution during the research and development phase.
J-Monster is a perfect example of the Juno working flow. We are in close touch with the customer, using our departments' cross experience to suggest out-of-the-box solutions. We mix traditional design skills with the new opportunities offered by additive manufacturing and the 3D printing industry daily.
The project involves the R&D division for the reverse engineering and the geometries' survey; the DESIGN division for the surfaces' style; and the 3D PRINT division for the parts' production.
CUSTOM ELEMENTS FOR MOTORBIKES: EXTREME PERFORMANCES, UNIQUE STYLE
Carbon Digital Light Synthesis™ introduced high-performance polymers with excellent mechanical features, high precision in texture reproduction and flawless surface quality.
This technology is perfect for creating parts that must resist high temperatures and mechanical stress, like front and rear exhaust covers.
We used EPX 82 for the exhaust covers.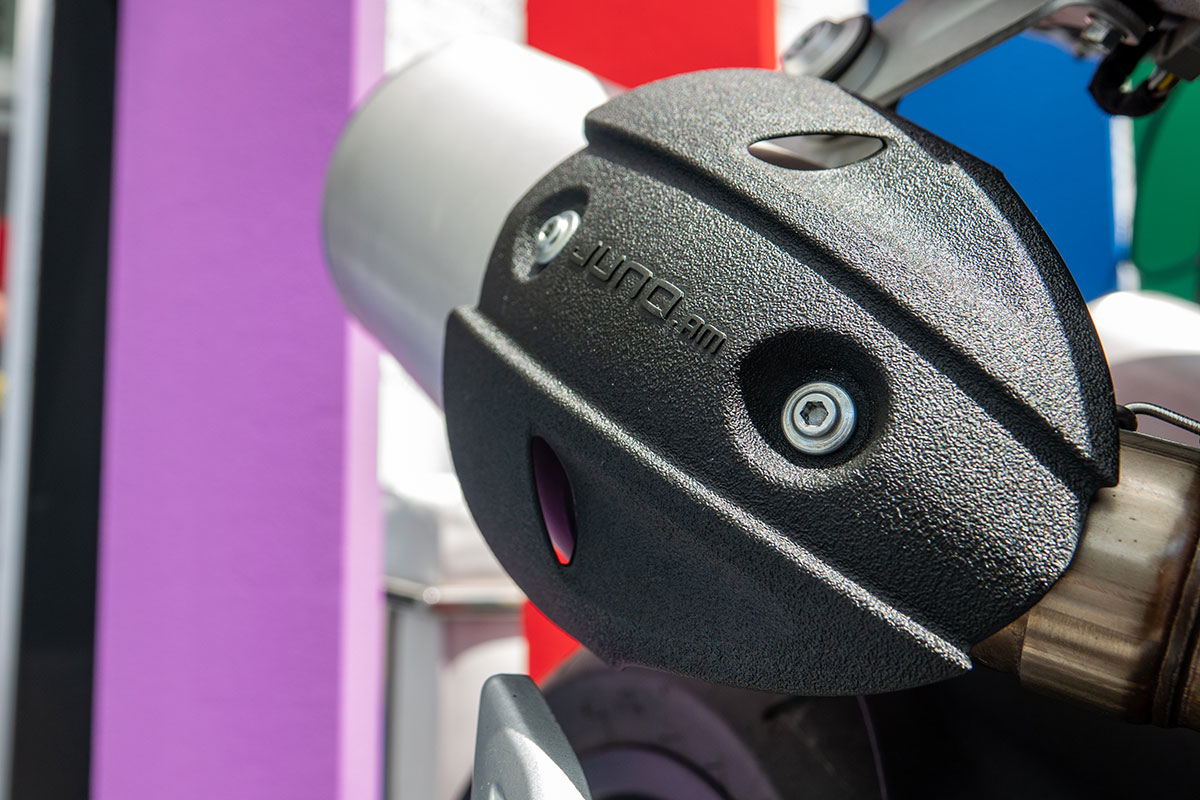 It is an epoxy material (comparable with glass-reinforced nylon), UV resistant, and perfect for avoiding deformations, loss of colour, or cracks due to prolonged sun exposure. This two part photopolymer is also known for being used by Lamborghini for Urus and Sian components.
This material also has an outstanding chemical resistance to handle oil spilling and an excellent thermal resistance (over 180° C, even with flames). It is an optimal feature, considering the position of the covers, close to the exhaust's end. The thermal resistance can be further improved by using the CE 221, which is capable of resisting over 230° C.
Besides the functional features, the customized aftermarket parts require attention on the aesthetic side, combining technical needs with the customer's taste. Again, the best option is industrial 3D printing, particularly Carbon technology.
With the traditional production techniques, the surface textures are usually made by applying chemical agents to the stainless steel mold; consequently, the graphic pattern and the finish are the same for any piece in the whole production batch. 3D printing allows for customizing each element and makes it possible to produce small batches with different textures. It does not need supporting tools for production.
Making changes directly on the digital file makes it possible to position other style elements more easily compared to a classic mould or other traditional production technologies. Adding a logo, the owner's name or the identifier for a particular version becomes devoid of complexity.
LATTICE STRUCTURES: AESTHETIC SHAPES, COMFORT FOR THE RIDER
Lattice structures combine technical needs and aesthetics. They are complex to generate, and their pattern is a sequence-repeated lattice; on the J-Monster, we used these structures for the pad.
Lattice structures are exceptionally light, and besides offering a unique aesthetic impact, they can be modulated to handle the compression and propulsion stresses.
The customized pads are in the area where the rider pushes their knee while turning and in the belly area: the material and the lattice structure guarantee both comfort and original shapes.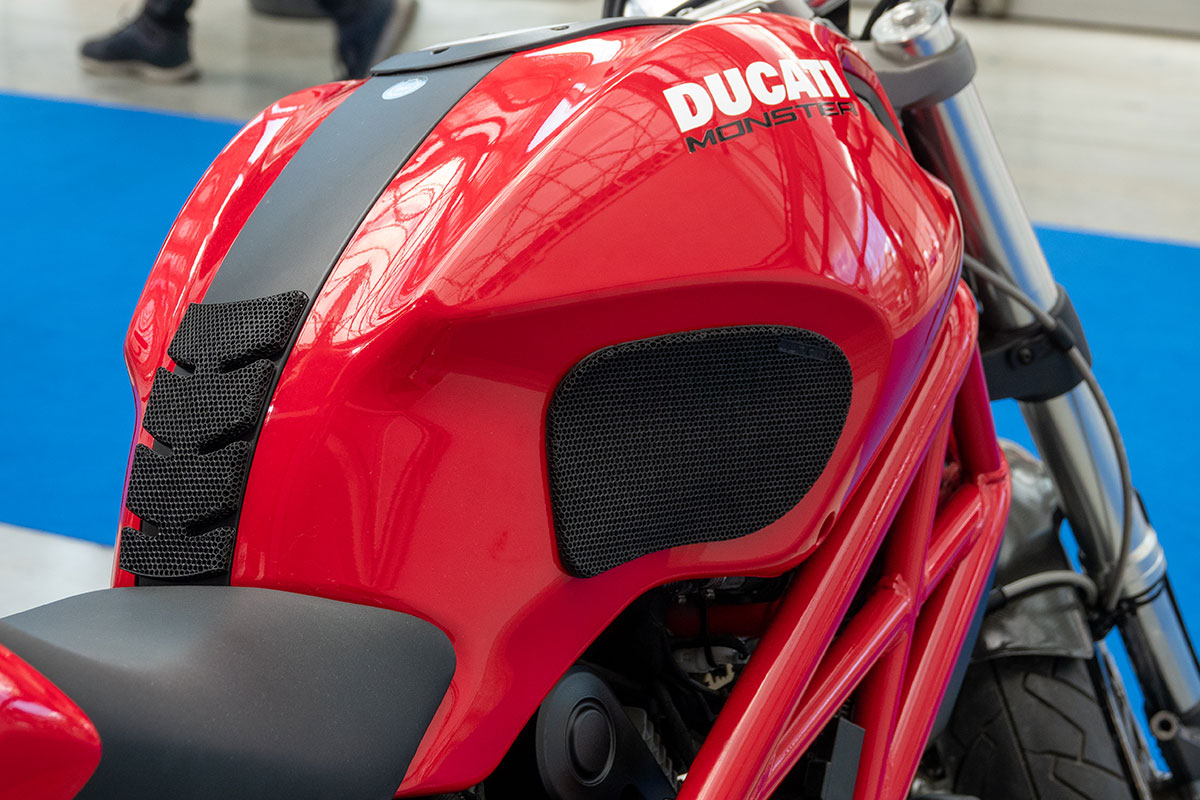 As a Carbon Production Network partner, Juno accesses the Carbon Design Engine, a software to generate lattice structure from a solid file to make it compliant for printing with Carbon.
The material for this element is the two-part elastomer EPU 40. It is perfect for small batches, while EPU 41 is better for serial production. They are similar in performance, but they adapt better to thousand-piece batches optimization. These elastomers are also known for being used by Adidas for its iconic Futurecraft 4D shoes.
Both materials belong to the polyurethane elastomers family and have mechanical and chemical features similar to vulcanized rubbers.
They are two part A+B materials, catalyzed before production and thermal-treated after printing with a 12 hours oven cycle (with a process similar to the classic vulcanization). The result is a highly resistant, high-performance material.
Focus on: Carbon or Polyjet rubber?

The rubber obtained with Polyjet 3D printing resists temperatures up to 40-50° C. It is photopolymerized only, not comparable with vulcanized rubber, and offers an average low breaking strength.

With Polyjet, it is possible to make a surface that reproduces the same touch feeling as the final product. It is an excellent solution for prototyping incredibly realistic volume tests or conceptual prototypes (with multi-colours and strength from 30ShA to 95ShA), for example. It reduces time and money even for a single piece: a few hours are enough to make a prototype ready to test, and prices are lower because there are no start-up costs like in DLS.

The technology and the range of materials introduced by Carbon, even though it fits prototyping needs, has higher laboratory costs. It is the right solution for large-scale productions or printing prototypes identical to the final product in terms of performance and material.
METAL 3D PRINTING: SAFE AND COMPLIANT ELEMENTS
We chose metal 3D printing with DMLS technology to realize the pedal.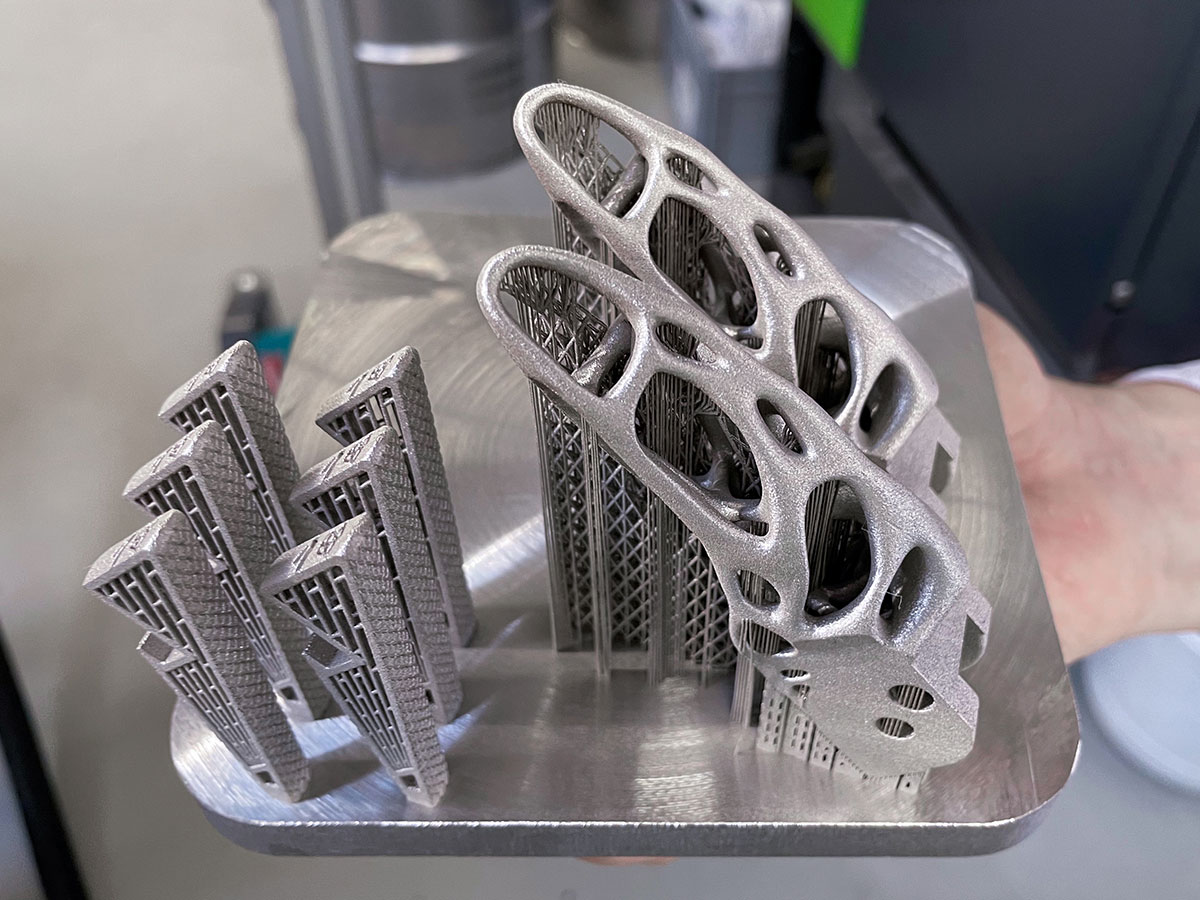 The industrial metal 3D printing technology allows to make completely functioning parts with the same or better mechanical and thermal features as those machined milled, or casted, parts. DMLS means blending the freedom of shapes typical of 3D printing with the traditional operations performed over metals in the workshop or analysis laboratory.
The DMLS-made final piece can quickly get through thermal treatments, HIPing, drilling, soldering, etc.
Pedals could also be homologated on street motorbikes: they are not limited to race models or prototypes.
RAPID JUNO MOULDING: ADDITIVE MANUFACTURING MOULD
In Juno, we constantly work with traditional production techniques besides 3D printing. For the mudguard, the bugspoiler, and the air vent, we chose carbon fibre after this process:
Design




Prototype printing




Make the mould with 3D printing




Putting the material on the mould




Autoclave
We also filed a patent for realizing moulds with 3D additive manufacturing in the past. "Rapid Juno Moulding" sets to speed up the mould production time, supporting the needs of specific sectors such as motorsport. Speed in updating makes the difference in a race: Rapid Juno Moulding allows realizing carbon parts in a few days.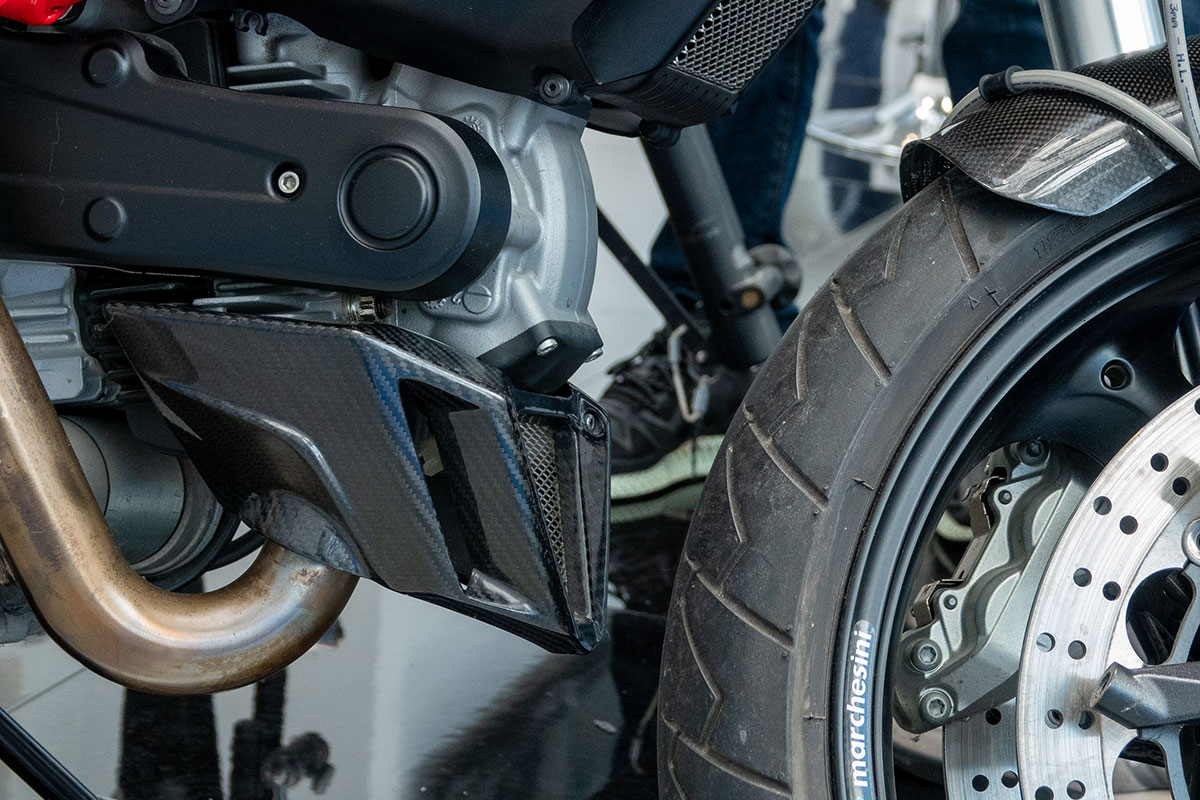 Ducati back in the days saw and liked our ready-to-use project, and bought the mould and design model of the push rod to add this element to its Ducati Performance catalogue, focused on special parts.
Aftermarket components in the automotive field were always a key part of our business, both for small workshops or known brands.
Big companies often find many advantages within Juno departments' cross skills. They work in perfect synergy, finding a quick answer, efficient and effective to optimize internal resources and launch a project on the market.
THE JUNO WAY: ITERATE TO PERFECTION
Juno is hugely flexible, elastic, and reactive.
Companies of any size can rely on our know-how and our divisions' cross experiences for consulting and tutoring from project to production or for handling emergencies and work peaks: our flexibility allows us to work 7 days a week, adapting quickly to processes, times, and methods of our customers, and making them reach their targets.
3D Print, R&D, and Design divisions work in the same environment, with quick and on-point feedback even for complex projects. In these cases, Juno becomes a true partner, flanking the customer step by step.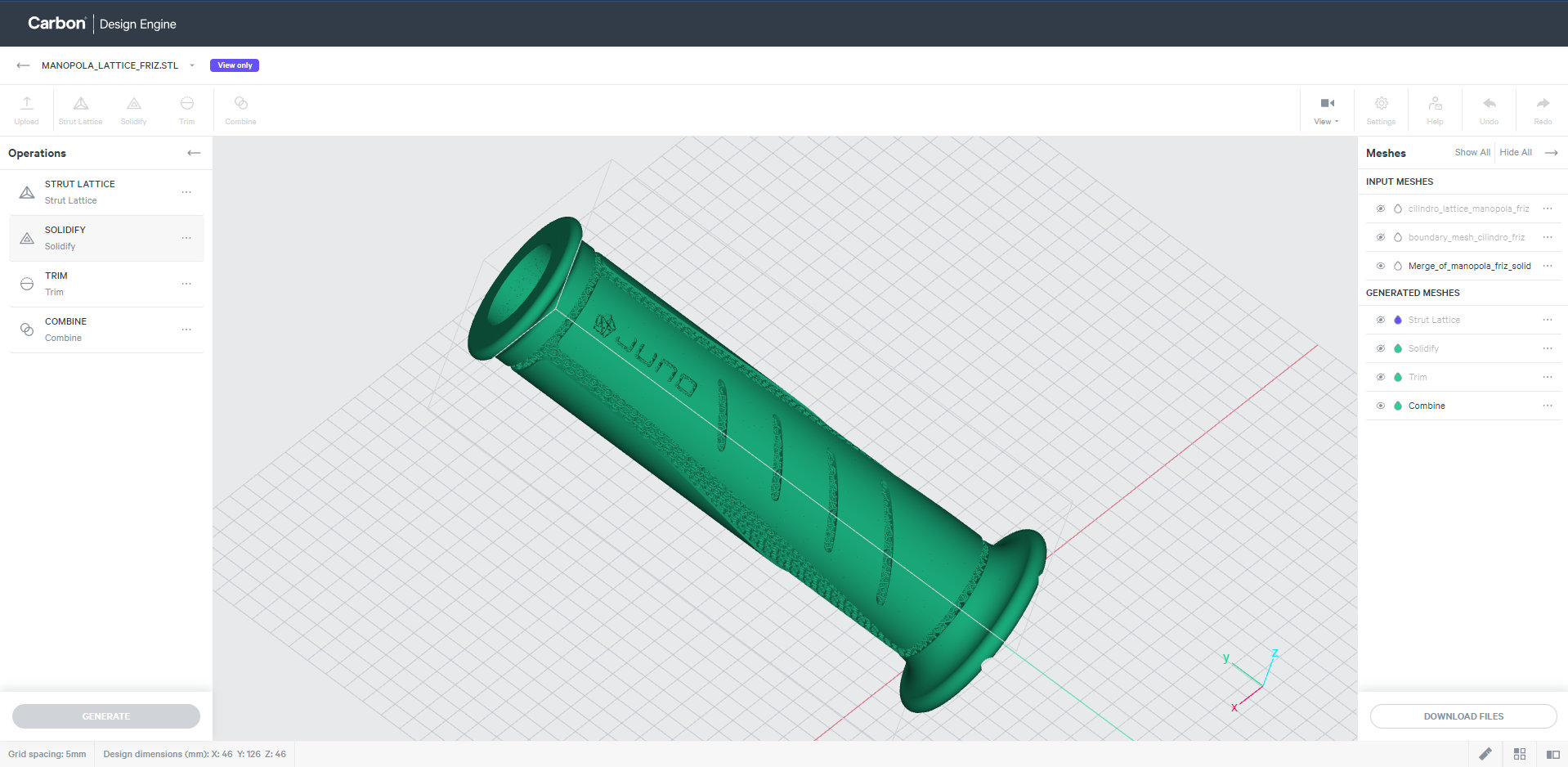 Our story starts in the 80s with Studio Pedrini and the ability to flank designers, understanding a project's complexity. This legacy is our DNA and allows us to offer decades of experiences where ideas took shape, became prototypes and produced, and used 3D printing to drive innovation and acceleration.
The deep mastery of CAD software is the natural consequence of a process that, historically, puts customers and projects at the centre of a galaxy of opportunities. Our team have designers focused on diverse designing software. We support Creo Parametric, SolidWorks, Inventor, Rhinoceros, Geomagic and the other software typically used by designers.
Our know-how in design, project, and production requires us not to settle for a partial result. We iterate with the customer to stand out in any detail based on their ambitions and desires.
BOLOGNA: THE MOTOR VALLEY AND THE FUTURE LEADERS
Bologna is the capital city of Emilia-Romagna. It is in a strategic position between Milan and Florence, but Bologna is right in the middle of Motor Valley. The Motor Valley is an industrial district where some of the most famous automotive and motorbikes brands were born and are still based.
It is a region where skills in mechanics and design are historically solid and rooted and where schools and other institutions craft new talents every day.

We grow talents and skills (also for highly innovative projects) by connecting experience and desire to be leaders, always choosing and experimenting futuristic technologies. We broaden this passion for looking at the future to our customers too. They can count on a partner with established roots that always looks toward the following industry trends and transformations.